A Meeting Skills Course
Level: Essential Skill for a Digital Workplace
PDUs: Leadership - 4
Have you ever tried to improve your meetings, only to become overwhelmed by all the rules the experts say you need to follow?
Do you know you need meetings to get work done, but you aren't certain how many, how often, or what kind?
Great Meetings Create a Competitive Advantage
What do high-performing organizations like Amazon, Zingerman's (a collective of gourmet food companies), Bridgewater Associates (an investment management firm), and the Opposing Force group at the U.S. Army's National Training Center have in common? They don't waste a lot of time in meetings.
Does this mean that they don't meet? Not at all! Instead, everyone in these organizations learns the skills required to run successful meetings that engage people and drive forward momentum.
But what if you don't work in a world-class organization that teaches these skills? Are you doomed to a career full of mediocre meetings?
Not anymore!
Distilling insights from business, cognitive and behavioral psychology, innovation studies, and 10 years working with thousands of organizations to improve their meetings, this course brings these essential meeting skills to everyone.
What You'll Learn
This course covers the 6 Core Competencies; meeting skills every meeting leader and participant should know.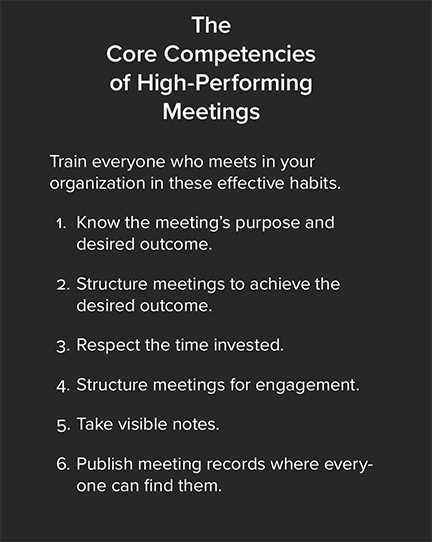 Course Contents
Delivered in bite-sized pieces, you can learn these skills in any order.
Need to take notes for a meeting tomorrow? Jump to a quick note-taking lesson and you're ready to go. Trying to figure out how to put together an agenda for your planning session? Grab the meeting agenda worksheet to get your answer fast.
Altogether, this course includes:
Over 3 hours of engaging video instruction
Quizzes to test your knowledge
139 pages of PDF reference guides you can print out and bring to your meetings
Downloadable worksheets for assessing your current meetings, planning future meetings, and capturing professional meeting records
and more!
You'll also gain access to the online Meeting School Community, where you can talk with Meeting School instructors and other students in real time.