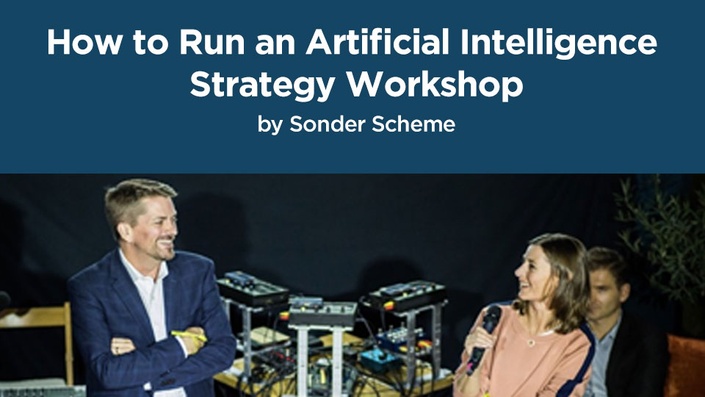 Workshop in a Box: Artificial Intelligence Strategy
Everything you need to create a strategic AI roadmap in a day
Watch Promo
Create a strategy for Artificial Intelligence in one day.
This training and toolkit gives you everything you need to run a full-day workshop and, at the end, have a prioritized roadmap of AI opportunities that you can start implementing immediately, in an ethical-first way.
This complete, ready-to-run workshop is ideal for business leaders responsible for their organization's product or services roadmap and facilitators who want to gain proficiency in leading service design workshops for clients.
Course Details
| | |
| --- | --- |
| INSTRUCTORS: | Helen & Dave Edwards |
| LENGTH: | 1.5 hours |
| ACCESS: | Lifetime |
| COST: | $97 |
Smart video-based training, including a guided walk- through for facilitating each workshop step
An AI Video explainer you can use in your workshop to get everyone up to speed on how AI can impact your organization
Posters and Mural templates you can use to support beautiful, effective design-thinking collaboration
Written instructions and all the templates you need, including tools to capture metrics that matter once the workshop is done
Everything you need to run an AI strategy and roadmap workshop

"in-a-box."



Are you a facilitator or business leader who needs a practical way to develop, or refresh, an AI-enabled innovation, product, or technology strategy?
Developing an AI strategy is complex. It starts with getting people empowered, confident and creative about AI: so they can see the opportunity for themselves and start innovating in ways they haven't before. Our in-person facilitation Opportunity Sprint does this, but now you can do it yourself.
We're proud to offer the digital version of our AI strategy and roadmap workshop, the Opportunity Sprint "in-a-box." The training and toolkit give you everything you need to run a full-day workshop and, in the end, have a prioritized roadmap of AI opportunities that you can start implementing immediately, in an ethical-first way.
Why create an AI strategy?
Do you understand what artificial intelligence is?
Do you know where AI touches your life? Your employees' lives? Your customers' lives?
Do you know what's at stake with AI? Do you know how to develop an AI strategy roadmap for your organization?
AI is a general-purpose technology that is changing the world. It represents a new form of intelligence - one that when applied well can augment human intelligence and help businesses create new revenue streams, reduce costs and reduce risk.
Why is AI different?
Getting to grips with what's possible is difficult because technology is complex. And because of its general-purpose nature, it can, quite literally, be applied everywhere, so how you decide on priorities is challenging.
Getting started on a strategy, or refreshing an existing strategy, requires education on the technology as well as value-based assessment of specific opportunities. You need executive-level buy-in and, at the same time, practical, frontline evaluation of an idea. You also need to alternate between learning about how AI is used by others and discovering new opportunities in your business. The Opportunity Sprint optimizes for all of these by taking a cross-functional team through multiple divergent/convergent steps so you can discover your highest priority AI-enabled opportunities.
Why design thinking?
Design thinking is extremely useful in tackling problems that are ill-defined or unknown. AI can be mistaken as a "solution looking for a problem," so design thinking helps by re-framing the problem in human-centric ways. Many design thinking techniques encourage high energy problem solving, fun, and engagement as ways to increase empathy and help people break the status-quo thinking, adding extra value in an AI initiative.
Why sprint?
Sprints are popular as a practical way of accelerating the problem-solving and prototyping steps of design thinking practice. Sprints are time-bound, focused on a specific problem, and aim for a practical and tangible output, usually a prototype. The sprint method popularized by Google includes some very specific ideas for optimizing group effectiveness, such as the concept of working "together alone," where individuals have time to flesh out their own ideas before having to share with others. By using these techniques from Google, an Opportunity Sprint makes sure that decisions are made at the right time, by the right people, so that the day's work sticks.
What am I in for?
An Opportunity Sprint is a fast-paced workshop session where a group uses their knowledge of the organization's challenges, opportunities, risks, unsolved problems, assets, values, and strategy to determine a prioritized roadmap of AI-based initiatives.
This means that at various times during the day, you (as facilitator) will be giving short presentations on AI concepts, helping people uncover their own experiences and ideas around AI, encouraging them to think about the human consequences of AI, challenging them to come up with solutions to problems in a human-centered way and directing decisions and priorities at specific times so as to align group ideas with the priorities of the organization.
Mostly this is a day that's about facilitation - if you are an experienced facilitator, especially one who has facilitated design thinking or design sprints, this should be familiar territory.
We encourage capturing the data - metrics for taking post-it notes and turning visual surfaces into data that can be reported on and tracked over time. This is especially useful when multiple workshops are done inside a company - as a facilitator you can capture how different teams think about AI and track changes over time.
Who is this for?
Everyone. AI is a GPT (general purpose technology) so when we say "everyone," we actually mean everyone. We've seen these concepts work equally well at companies where there is no AI and at the big tech platforms who pride themselves on leading the world in AI. We've seen amazing results when there's diversity in the room - especially diversity of understanding of AI, from AI novice to AI professor. That's because, in the end, this is all about people.
AI opportunities are broad and deep, so the leadership and purpose of the workshop reflects this:
A CEO, Board or C-suite executive who wants to take the lead and align the team on an AI direction.
A functional leader who wants to explore, define and prioritize AI-enabled revenue growth, cost reduction or risk reduction opportunities
A technical lead who wants to engage the business on what's possible with technology
A product manager on how to identify new product opportunities
An HR leader who wants to understand the employee impacts of AI and the future of work.
How often can we use this day/workshop?
As many times as there are teams to put together. This session could be run once or twice a year for the top tier strategy work, down to installing a rolling system across an organization that serves as part of a training system for AI and frontier technologies. Your purchase of this course gives you license to use the sprint as many times and with as many people as you'd like.
AI changes all the time so we update the examples and case studies frequently. This means that an Opportunity Sprint can also act as a refresh/update/competitive analysis tool. The more the workshop is used, the more data you get on progress and attitudinal changes.
What will we get from an AI Opportunity Sprint?
Our Opportunity Sprint is fast and effective and optimized for AI. At the end of it your team will have:
a fast track understanding of AI that level-sets the group, no matter what their level of technical understanding is—what is and is not, in a simple, human-centered way, and a common language for talking about AI
executive and senior level buy-in to your direction and roadmap
a shared, cross-functional understanding of the highest priority solutions to your challenge and why AI is the right path
a heat map of the most inspirational and impactful opportunities that could be unlocked using AI
a risk assessment that sets the stage for the unique governance requirements of ethical AI development
a set of prioritized "do now" opportunities that can be translated into tangible action plans
Your Instructor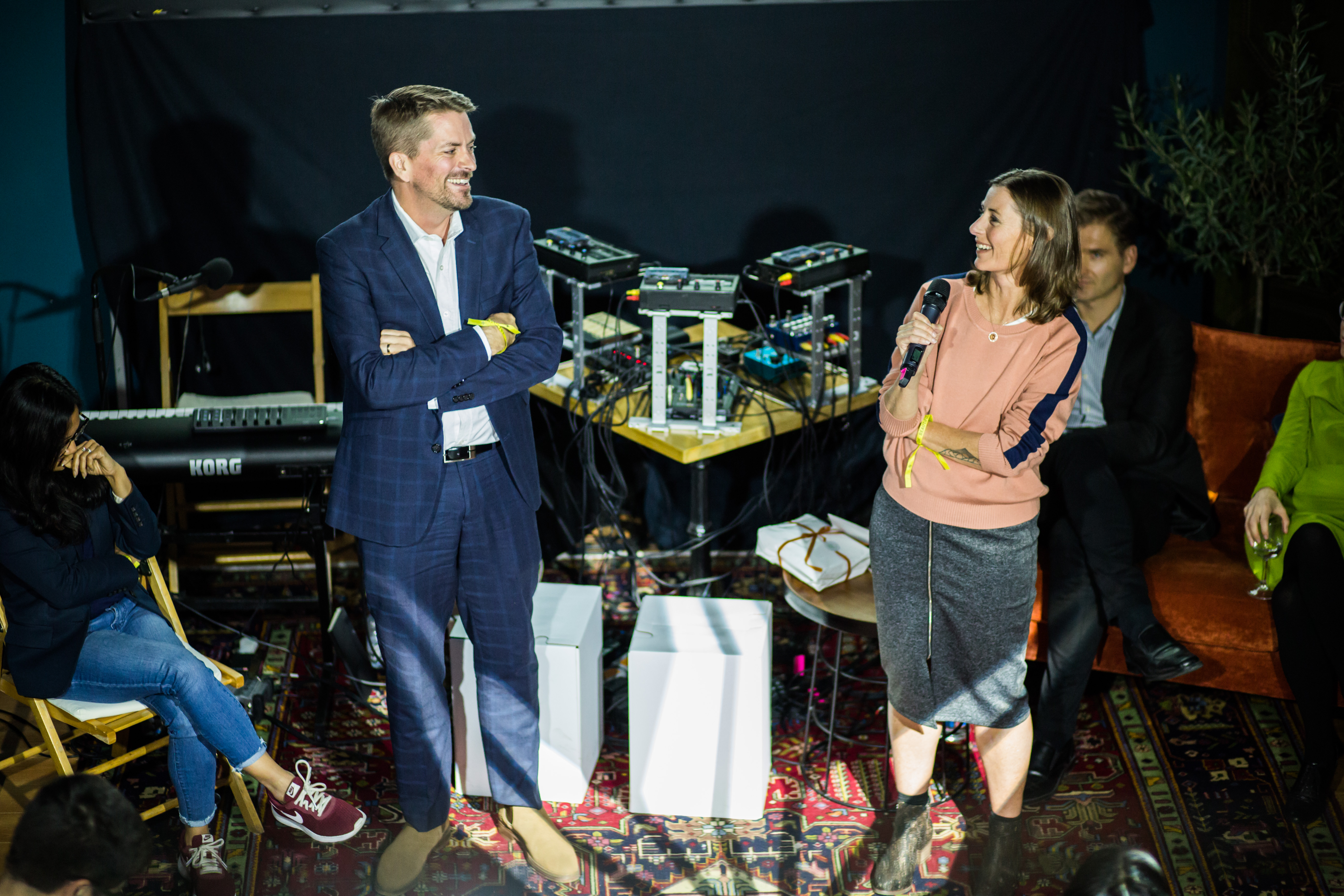 Sonder was created by Helen and Dave Edwards, founders of Intelligentsia.ai, a research company that explored how humans and machines will work together in the age of AI. After the company's acquisition by Quartz, Dave and Helen led the publication's AI information platform before returning to the hands-on work of helping people and enterprises craft the future of work through AI.
Helen has spent her career at the edges of chaos; where technological innovation collides head-on with traditional ways of doing things. She's been described as being able to see new relationships and counter-intuitive outcomes; to "link the un-linkable." Her past experience includes being CIO of Transpower, New Zealand's national grid, head of emerging products at Pacific Gas and Electric and head of corporate venturing for Meridian Energy.
Dave is a trend-spotter, analyst and storyteller. He has spent his career distilling and advancing big technology trends like the internet, cleantech and AI. His brain is split in two with half dedicated to creatively designing consumer experiences while the other half has an uncanny ability to find the right metric to measure and build upon. His past experience includes being head of software application marketing at Apple, head of consumer strategy at SunPower and a lead technology research analyst at Morgan Stanley
What You Get
Video and written instructions for planning and leading the workshop, including examples
Short, engaging videos you can use during the workshop to teach participants the AI basics
Posters you can print out and use to support beautiful, effective design-thinking collaboration
All the templates you need to capture the details
Tools to capture metrics that matter once the workshop is done
Templates for documenting your AI strategy at the end of the day
Frequently Asked Questions
When does the course start and finish?
This is a self-paced course. It begins as soon as you enroll and you can take as long as you want to complete it. You can also come back and take the course again in the future if you want to run the workshop another time and need a refresher.
What if I am unhappy with the course?
We would never want you to be unhappy! If you are unsatisfied with your purchase, contact us in the first 30 days and we will give you a full refund.
I'm a facilitator. Can I use these materials to run paid workshops for my clients?
Yes. You are free to use the workshop material with clients as long as you keep our name and copyright visible on the posters and handouts. You may not make a derivative work and sell it as your own creation, however. If you're planning to run an AI Opportunity sprint and want to make changes to the materials, please contact us on our
website
or using the comment features in the course.
Do I need to take the Sonder Scheme AI Masterclass to run this workshop?
No. This course includes everything you need to run the workshop, including a basic introduction to AI you can share with participants. That said, having one or more team members take the
Masterclass
may make the workshop discussion richer, and will certainly make the following development work easier.