As an organizational change leader, you've developed a framework for introducing change to your organization. You've found a model that works well for you and that your colleagues know how to use. 
You have the skills you need to:
Conduct research and establish baseline metrics
Engage stakeholders in the creation of a vision for your change initiative 
Facilitate workshops across the organization 
Develop and deliver on internal communication plans
Test and iterate on your change strategy
You are experts in designing and leading change for your organization. 

We're experts in meeting performance.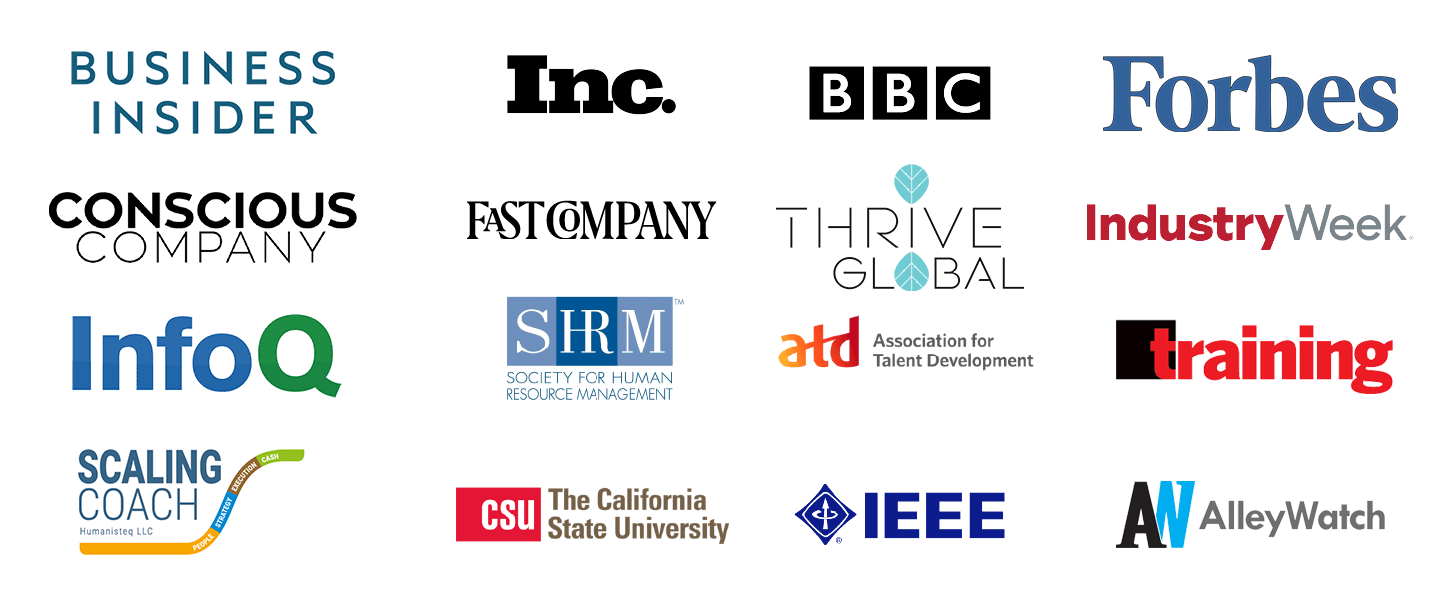 12 Years Focused on Business Meeting Excellence
We train and advise change leaders just like you on the not-so-obvious strategies used to ensure business meetings are reliably productive and enjoyable in world-class meeting cultures.

For organizations seeking a more directed, done-with-you approach to transforming their meeting culture, we offer services ranging from quick diagnostics to multi-year transformation engagements.

For you, as a change leader who is ready to design and lead a meeting culture transformation program in your organization, we are the experts you need.

How We Help
As your transformation advisors, we will:

Review your research strategy and help you avoid known dead-ends.
Decades of meeting research have proven that people rarely give truthful or useful answers to some seemingly great questions. As a result, many naive meeting studies are largely worthless. We'll help you avoid these dead-ends and look for the information you can use to drive change forward. 

Review your research findings and recommend first-step strategies.
For some groups, the most impactful first step involves grand statements from leadership and a big policy change. For others, a simple technology update may provide the best benefit. 
We can help you understand the possible first steps and decide which to pursue.
Assist with workshop design and materials creation.
You could wallpaper the universe with all the freely available content about meetings on the internet. You can lead meeting training workshops every month for a decade without repeating yourself. (We know because we have.)
We'll save you time and improve your results. Work with us to shortcut your search for the best relevant content and learn the most impactful workshop strategies for your agenda.
Answer your questions.
😊
It seems that improving meetings should be easy. Everyone seems to want better meetings, great how-to advice is easy to find, and your leadership team is on-board with anything that will increase productivity. Simple, right?
Simple, but never easy. Changing meeting culture can be frustratingly slow work, especially in larger organizations. What people say and what they do rarely line up. 
You will run into situations that seem to make no sense. You will have questions. We'll share answers. 
And finally, when we don't have the answers you need, we'll...
Make strategic introductions.
We work with a global network of meeting experts. We can introduce you to trainers, consultants, and workshop facilitators who can work with you to address your specialized meeting needs. 

What You Get
During each month that we act as your advisors, we will reserve up to 20 hours to:
Participate in program meetings (planning, debriefs, co-working, etc.) 
Review and comment on research plans.
Review survey data and stakeholder interviews.
Assist with workshop development, including materials and workshop plan review.
Provide program recommendations.

Frequently Asked Questions


How do I schedule my meetings?
Upon purchasing this package, you'll receive further instructions on how to book time for your first planning call.

Can I pay by wire or ACH?
Absolutely! Contact us at [email protected] to get an invoice.