Dec 1, 9AM PT Meeting Your Voice w/ John Baron
Session Details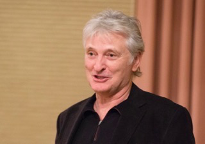 December 1, 2020 9 AM PT / 12 PM ET / 17:00 London (See in your timezone)
90 minute free interactive Zoom session
Guest Instructor: John A. Baron
Registration required, so we can know how many to expect.
15 minutes of recommended pre-work. See the file below.
---
Session Overview
When you hear a recording of your voice, what do you think?
When leading or participating in a meeting, how would you like to sound?
How do you imagine your sound/voice is perceived by others? Is what you imagine accurate?
Maybe you have to have a difficult conversation and it's made you anxious. That anxiety makes your heart race and you feel short of breath. How does that sound? Or maybe, you are afraid of public speaking and have to present a proposal to 35 people via Zoom. How can you still deliver the information, articulate clearly, and sound convincing? Perhaps you tend to hesitate and stumble when you're nervous. What can you do to prevent that?
You might think that people who always sound natural, and like they're at ease, have a rare gift.
Perhaps, but this can also be a learned art!
Vocal Power and Communication
Your voice is a wonderful, complex, and telling instrument. More importantly, in today's world, your 'voice' is one of your most important communication tools.
In this session, you'll learn ways to use your voice to communicate more effectively, and discover opportunities to enhance your contribution to every meeting.
Together, we'll explore ways of playing this instrument irrespective of our accents, age, tensions, preconceived conceptions, and habits of vocal misuse.
Learn to unleash your Vocal Power at your work and in your personal communication.
About Our Session Leader, John A Baron
https://www.johnabaron.com/testimonials-voice-work...
An actor in England for over 10 years playing leading roles in professional theatre and in film and TV, John studied extensively with some of Europe's finest voice teachers including Kate Fleming (National Theatre) and Florence Norburg (teacher of Laurence Olivier, Vanessa Redgrave). He won an Arts Council Grant to study with Norburg, which he did for several years.
John has worked with countless professional voice users, from actors and singers to lawyers, clergy, business professionals, and radio and TV personalities.
John is a senior teacher and a teacher trainer of The Alexander Technique as well as being a vocal coach. He has led many workshops and organized trainings for national and international organizations: Fireman's Fund Insurance, Google INC, The Sundance Inst., The Esalen Institute, The San Francisco Ballet, The San Francisco Opera, and many more.
For the past several years John has taught his class "Exploring the Instrument" for VOICETRAX, the leading voice actors training company in the Bay Area.